In the North End of New Bedford, Massachusetts, a remarkable transformation has been underway since 2015. That's when the Love The Ave concept was launched by the Community Economic Development Center (CEDC) on Acushnet Avenue in partnership with MA Smart Growth Alliance / Great Neighborhoods, the statewide network of regional advocates focused on housing, transportation, and climate change. 
The vision entailed bringing together neighborhood residents and businesses, with a generous sprinkling of artists, to spotlight the importance of Acushnet Avenue as a commercial corridor and the surrounding blocks as a walkable residential neighborhood in the city. This innovative initiative has not only changed the perception of The Ave – as it is affectionately known –  but has since become a symbol of community-driven revitalization in New Bedford.
Love The Ave today is a brand and source of pride. 
The Rise of Love The Ave 
When Love The Ave was introduced, it was met with enthusiasm and optimism that has only grown over the years. The idea was simple yet powerful – to showcase a vibrant and lively urban area and celebrate the unique heritage and culture of Acushnet Avenue. The North End of New Bedford would now have a distinct brand through which long-time and new businesses were reflected and a diverse community represented using social media, a website, and in-person gatherings and special events. 
Along the way, Love The Ave gathered new partners to its cause, such as the City of New Bedford itself – which sponsored two Restaurant Week promotions – and the New Bedford Economic Development Council (NBEDC), which assumed a leadership role with the group. Monthly or quarterly meetings brought together people in the district or from throughout the city to share news and ideas. Love The Ave became a shining example of how collaborative efforts can transform a neighborhood.
The New Bedford TDI District
The success of Love The Ave did not go unnoticed. MassDevelopment, recognizing the potential for further growth and positive change, in 2022 established the New Bedford TDI District along Acushnet Avenue. This significant step reaffirmed a  commitment to revitalizing the area and harnessing its full potential.
Rather than reinvent the wheel, the New Bedford TDI District, under the direction of Fellow Adelsa Mendes, has recognized that the Love The Ave brand and umbrella of partnerships is a powerful tool to continue the momentum of the past years. Indeed, when the TDI District launched a successful series of summer events this past year, they were named "Love The Ave Wednesdays!" 
And now, TDI is doubling down.
To further enhance the positive branding and ensure Love The Ave continues to flourish, MassDevelopment has enlisted the expertise of OverUnder, a renowned Massachusetts creative agency they've worked with extensively. 
OverUnder has been diligently working on a fresh branding strategy, complete with a new logo and promotional campaign. Team members have walked The Ave, gathered input from residents, businesses and Love The Ave supporters since spring 2023. Now, this exciting endeavor is about to be introduced during a final presentation. 
A New Love The Ave on Mon. Oct. 16
The culmination of their efforts will be unveiled on Monday, October 16, at Cafe Europa, 1256 Acushnet Avenue. Love The Ave supporters, business owners, and residents are invited to witness the final presentation by OverUnder and a new beginning for this special project. 
OverUnder's Brett Pierson comments, "Acushnet Avenue is a special place, rich with history, a vibrant culture, and amazing food. With the refreshed brand, we aspired to create something that not only reflects the variety of people and businesses along The Ave, but also unifies the community under a common language: a shared idea, name, and graphic identity. 
"This brand is just a beginning for the North End. And we hope it has other neighborhoods wondering: don't we deserve an identity that represents and serves us, too?"
Love The Ave has proven that when a community comes together with a shared vision remarkable things can happen. The upcoming brand re-imagination by OverUnder signifies a renewed commitment to the revitalization of Acushnet Avenue and is a testament to the power of community-driven initiatives.
Join us if you can on Monday, October 16 at Cafe Europa – or be sure to follow Love The Ave on Facebook. Soon you'll see a new look, powered by creativity, collaboration and the community spirit that has defined our love for The Ave. 
The New Bedford/Acushnet Ave TDI Team
PARTNER SPOTLIGHT:
The New Bedford Office of City Planning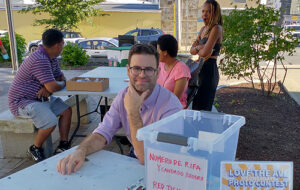 Some people think of municipal employees as simply bureaucrats. We don't – because we've had the pleasure of being partners with the New Bedford Office of City Planning. We know them as fierce advocates for creativity and collaborative projects like our very own New Bedford TDI District. As valued partners, their team has been instrumental in helping to Love The Ave and bring exciting ideas to life. A special thanks to the team for helping to facilitate Love The Ave Wednesdays with permits and support over the past summer. And, for joining us for some fun during those fabulous evenings! (Pictured is Assistant City Planner Michael McCarthy in the Nye Street Pocket Park on Wednesday, August 23.) 
CALENDAR NOTE:
FRIDAY, OCT. 27: Join the New Bedford Economic Development Council (NBEDC) for their Annual Meeting today from 4:00pm – 6:00pm at the New Bedford Whaling Museum. Special guests include City of New Bedford Mayor Jon Mitchell, and award-winning filmmaker Ethan de Aguiar. Free RSVP while seats last at this link. 
OPPORTUNITIES: 
The NBEDC's grant program, NB100! once again accepting applications. "With the firm belief that strong entrepreneurial ecosystems strengthen businesses, close access gaps, and help build community wealth, the NBEDC has relaunched NB100! – an ARPA-funded technical assistance/funding program to help finance the dreams of 100 new and aspiring small businesses in the City of New Bedford." Applicants will be accepted on a first-come, first-serve basis. Details and eligibility requirements can be found at this link: nbedc.org/grant-loan-programs/#NB100
And, NBForward! offers New Bedford businesses grants up to $20,000 in conjunction with matching financing and other technical assistance. Grant funds shall be matched with a NBEDC loan with deferred payments for three months. The minimum loan amount is $10,000, and the maximum loan amount is $200,000. Find out more here: nbedc.submittable.com/submit
Meanwhile, in 2024, it just may be your turn to realize your artistic ambitions in the City of New Bedford by applying for either an ARTnet or Wicked Cool Places grant from New Bedford Creative. Applications are now being accepted for 2024 projects. Guidelines to apply are available here: newbedfordcreative.org/grant-programs/
DID YOU KNOW….?
An exciting new project is launching! The South Coast Hispanic Chamber of Commerce is now forming; get in on the action by following their Facebook page here. 
Follow Love The Ave on Facebook (LINK) and Instagram (LINK) all month long!
The Acushnet Avenue New Bedford TDI District is focused on the revitalization of the Acushnet Avenue corridor in New Bedford. The goal of the MassDevelopment program is to stimulate economic growth, encourage community development, improve infrastructure, enhance public spaces, and attract private investment to the area. The program involves working closely with local stakeholders, businesses, and residents to identify priorities and implement initiatives that address the unique needs of the neighborhood. Adelsa Mendes is the TDI fellow for the New Bedford TDI District. You can reach her at 

[email protected]