Dear Love The Ave followers and supporters:
Thanks for reading the first Love The Ave newsletter. Going forward, each month the Acushnet Avenue TDI District team looks forward to sharing with you stories of note, events of interest, and news from the Acushnet Avenue commercial corridor and broader north end New Bedford community in these newsletters. 
The featured news we'd like to highlight today is the remaining Love The Ave Wednesdays taking place on August 9, 16 and 23 at the Nye Street Pocket Park on Acushnet Avenue. 
Love The Ave Wednesdays kicked off with a magical evening celebrating the unveiling of the Love Locks contemporary sculpture by Keith Francis on Wednesday, July 26. (See "News" below.) Since that stunning debut, subsequent Wednesdays have brought together community organizations such as 3rd Eye Unlimited, Groundwork Southcoast, and others along with music, art and more each evening from 5-8:00 p.m.
We are thrilled to invite you to join us for the remaining three Love The Ave Wednesdays in the heart of the Acushnet Avenue TDI District. The free evenings are dedicated to celebrating our vibrant community and embracing our unique culture. Mark your calendars for Wednesday, August 9th, 16th, and 23rd, as we have an exciting lineup of activities planned for you!
On Wednesday, August 9 we celebrate children with the folks behind The Basics Learning Trail project along The Ave. Music will be provided by Zulay Holland, and you can expect face painting, clowns, free hot dogs courtesy of PAACA, and special giveaways.
On Wednesday, August 16 we break out the pencils and paint brushes to enjoy a Plein Air evening of art. Special featured guest is muralist Eden Soares, who will lead guests in creating a brand new Love The Ave mural right at the Nye Street Pocket Park! DJ Brian Ribeiro will provide the soundtrack, and refreshments and other activities are also planned. 
Finally, on Wednesday, August 23 we invite you to take a Taste of The Ave with special food vendors, along with music from DJ Michael Monteiro. Also – get ready to move your booty as we'll also feature a group dance lesson, and more. 
Throughout these three Wednesdays, we invite guests to also check out the shops and restaurants along Acushnet Avenue. Love The Ave Wednesdays are the perfect opportunity to explore and support local businesses!
Spread the word, bring your friends and family, and let's celebrate love, unity, and culture in the heart of Acushnet Avenue. We look forward to seeing you there!
With warmest regards,
The Acushnet Avenue TDI District Team
(Featured photo: At the Love Locks opening, courtesy of New Bedford Creative.)
Love The Ave & North End New Bedford Special Events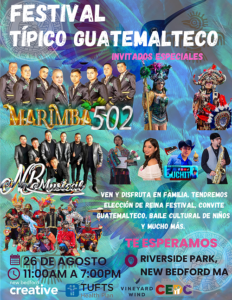 THURSDAY, AUG. 10: – The New Bedford Police Department will be holding a community outreach event at Riverside Park on Belleville Avenue from noon-2:00 p.m. Check out special NBPD vehicles and take a picture with McGruff the Crime Dog at this family-friendly event. 
SATURDAY, AUG. 12 through SATURDAY, AUG. 26: Join us at the New Bedford Patio de Comidas (Food Patio) and enjoy a delicious experience filled with tradition and flavor! New Bedford Creative and the Community Economic Development Center (CEDC) celebrate this fantastic event at Riverside Park, where you can immerse yourself in Central America's food, art, and culture from 11:00 a.m. to 5:00 p.m. under the summer sun. Then, come back for more on Saturday, Aug. 19 and Sat. Aug. 26.
On SATURDAY, AUG. 26, Patio de Comidas combines with the annual Festival Tipico Guatemalteco celebrating Guatemalan culture through food, music, dance and art. This special Saturday event will run from 11:00 a.m. until 7:00 p.m. 
ONGOING: New Bedford Creative's Arte Entre Amigos Spanish language peer-to-peer series continues through August, 2023. Las sesiones arte-entre-amigos de New Bedford Creative son una serie gratuita y accesible orientada a enriquecer, educar y conectar a los creativos a través de una serie de talleres y sesiones de capacitación.  Find the entire line-up of virtual and in-person classes at this link. 
ONGOING: Latinas in the South Coast along with Guelmie Santiago and Damaris Ferrer of Santiago Professional Services (located on 1913 Purchase Street, New Bedford) are hosting a Back to School Supplies Drive. "We have a goal of collecting at least 100 backpacks and donating it to the families of the Community Economic Development Center (CEDC) during one of their Patio de Comidas events." they write. "We're collecting donations which can be dropped off at Santiago Professional Services or to Von Marie Moniz, Program Manager for EforAll Southcoast, at Groundwork co-working Space, 1213 Purchase Street." 
PARTNER SPOTLIGHT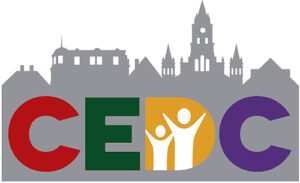 The Community Economic Development Center (CEDC): Incorporated in 1997 as a Community Development Corporation, for over 23 years the CEDC has focused on understanding residents' and businesses' needs through active engagement within the community. It has been a priority of the CEDC to achieve resident, stakeholder, and Board community engagement, build planning momentum, and mobilize a broader community participation base to solve problems, build strategies, and plan for the future community. The CEDC aims to bridge new immigrants and long-term residents to find their way to economic opportunity, and is located in the heart of the Acushnet Avenue TDI District at 1501 Acushnet Avenue. Visit their website here for more information about them.
Acushnet Avenue TDI District IN THE NEWS:
"Artist Keith Francis has New Bedford in his blood. Not only is he a Visual Design and Communications instructor at Greater New Bedford Regional Technical Vocational High School, but on a recent visit to the Nye Street Pocket Park he literally pointed out a more visceral connection to the place where his magnificent new sculpture will sit." Read more via New Bedford Creative here. 
One of the many ways to revitalize and support local communities is through arts and cultural initiatives, according to Corinn Williams of the CEDC. Francis' work …promotes artistic expression and community engagement, while building upon the powerful Love The Ave brand launched by the Community Economic Development Center on The Ave. Read the full Southcoast Today story here. 
In 2021, Andy Anello  and New Moon Dance Party took it outside to Riverside Park in the north end along Belleville Avenue and launched Riverside Beats – a family-friendly, casual version of the night-time dance parties. The next Riverside Beats is in September; get some background at this link before you go!
WPRI 12 in Providence visited the Cape Verdean Cultural Center on Acushnet Avenue for this report with Darlene Spencer of the Cape Verdean Association in New Bedford. Step inside at the link! 
DID YOU KNOW? You can follow Love The Ave on Facebook (LINK) and Instagram (LINK) all month long!
The Acushnet Avenue TDI District is focused on the revitalization of the Acushnet Avenue corridor in New Bedford. The goal of the MassDevelopment program is to stimulate economic growth, encourage community development, improve infrastructure, enhance public spaces, and attract private investment to the area. The program involves working closely with local stakeholders, businesses, and residents to identify priorities and implement initiatives that address the unique needs of the neighborhood. Adelsa Mendes is the TDI fellow for the Acushnet Avenue TDI District. You can reach her at

[email protected]