What's popularly known as the Bay State TV building looms large over The Ave – in memory and today on the streetscape. Indeed, signage from the former electronics store still adorns the side of the mixed-use retail and residential structure.
Of course, it's well-known as being the home of Bay State TV – back when antennas could be found on every roof in the city. That's how television entered homes, back before cable and long before streaming. Obviously times have changed. 
But maybe not so much for this multi-purpose building, which actually encompasses several addresses on Acushnet Avenue – numbers 1566 through 1570. It's pictured from the Phillips Ave Pocket Park above.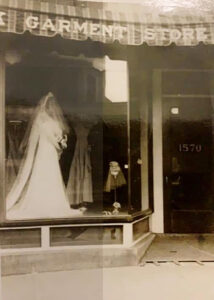 Today, different storefronts define the space – just as it once was. While Bay State TV lives on in the imagination, the building also hosted a popular bridal shop, owned by the grandmother of Bazel Bael, who shares this pictures with Love The Ave. 
Bazel is on the hunt for more images and memorabilia from this Acushnet Avenue address – and now we ask readers to share their memories with Love The Ave. 
Leave your comments – or images from Bay State TV and 1555-1570 Acushnet Avenue – in the comments section on this Facebook post or email us at [email protected] with anything you'd like to share. 
We'll compile them into an article or this blog, and then a window display that will become part of the Addressing Acushnet Ave project…which you can read more about here and launches today with your help!